Book a New York Times bestselling author to speak at your next event
Jennifer is a lively, funny, experienced keynote speaker. She's given featured keynotes based on her bestselling books to corporate audiences of 3,000 as well as led seminars for university classes and bookclubs. She can tailor her talk to your program–corporate audiences love her motivational keynote about the hidden benefits of slowing down.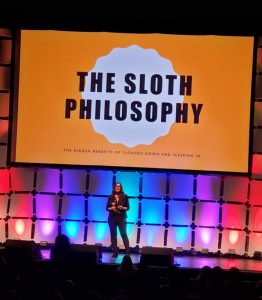 She has given talks and participated in panels for a wide variety of international clients including the Aha Women's Speaker Series, OpenBook, the University of King's College journalism program, the Edinburgh International Book Festival, AyeWrite Festival Glasgow, the Word on the Street Festival, and the Debut Authors Festival.